"
I cast Yvonne De Carlo as Sephora, the wife of Moses, after our casting director, Bert McKay, called my attention to one scene she played in Sombrero, which was a picture far removed in theme from The Ten Commandments. I sensed in her a depth, an emotional power, a womanly strength which the part of Sephora needed and which she gave it.
"

—Cecil B. DeMille on Yvonne De Carlo
Yvonne De Carlo (born Margaret Yvonne Middleton; September 1, 1922 – January 8, 2007) was a Canadian actress and singer. She played Sephora in Cecil B. DeMille's The Ten Commandments.
Early life
Edit
De Carlo was born in Vancouver, British Columbia, to William Middleton and his wife, Marie De Carlo.[1]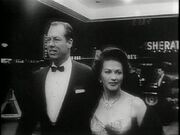 De Carlo had a very prolific career in film, television, and the stage, lasting from 1941 to 1995. Before starring in The Ten Commandments, De Carlo was known for her roles in the films Salome Where She Danced (1945), Criss Cross (1949), and The Captain's Paradise (1953). Beside her work in The Ten Commandments, she is also remembered for playing Lily Munster in CBS sitcom The Munsters (1964-1966).
References
Edit
External links
Edit
Ad blocker interference detected!
Wikia is a free-to-use site that makes money from advertising. We have a modified experience for viewers using ad blockers

Wikia is not accessible if you've made further modifications. Remove the custom ad blocker rule(s) and the page will load as expected.